One of the most well-known serial founders in Nigeria, Opeyemi Awoyemi, is currently working on the launch of a new company. This time around, it's not a technology company — Awoyemi co-founded both an online jobs site called Jobberman (which was acquired by ROAM Africa in 2016) and a bootstrapped hosting platform called Whogohost — but rather, it's a venture studio called Fast Forward Venture Studio.
It is rather fascinating that Awoyemi has chosen to go in this direction, particularly given the fact that many African entrepreneurs either start syndicates or venture capital funds after or during their respective entrepreneurial journeys.

Battle Approved Motors. Invest Today!!

Get a $250 Amazon Gift Card. Apply Today!
But if there is one thing that can be said about him, it is that he and his co-founder, Omolara Awoyemi, provide much-needed operational expertise to develop a venture studio, which is an unusual accomplishment in these parts.
After leaving Jobberman, Awoyemi, who had been the managing partner of the company, went to work for Indeed as a senior technical product manager. On the other hand, Omolara, the company's operating partner, previously held the position of country manager of Jumia's fintech branch in Nigeria and served as a senior program manager for Facebook.
It is unavoidable for people in these jobs, especially angel investors, to generate ideas and cite opportunities based on trends and tailwinds within the technology industry (for instance, the managing partner co-founded a digital bank for migrants last year that has since pivoted from serving customers to businesses).
Launching a venture studio and recruiting skilled hands to manage these initiatives was the next best thing to do given the limited or nonexistent capabilities of the individuals involved to independently pursue these ideas.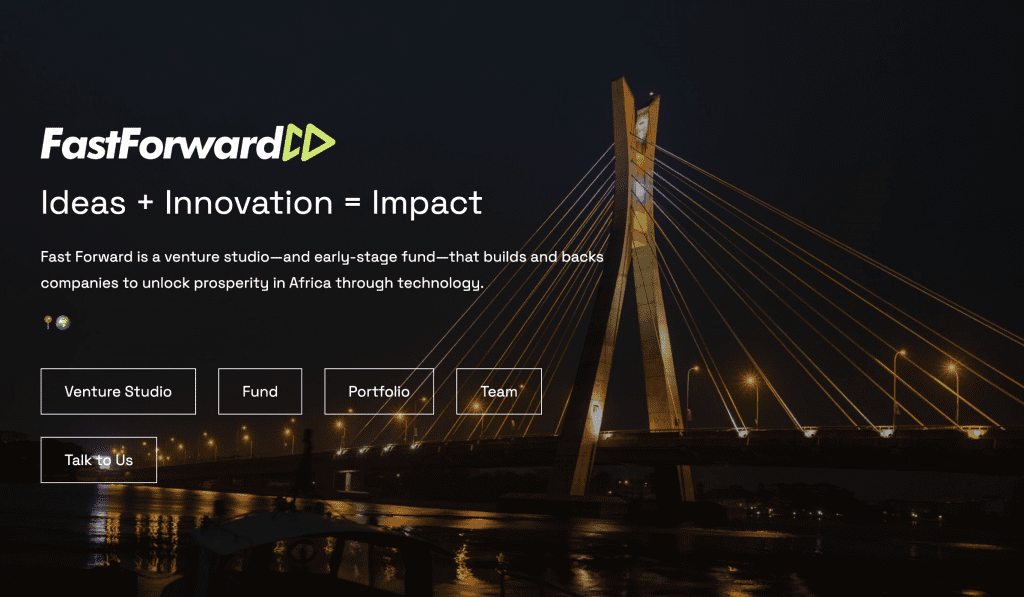 As the managing partner of Fast Forward described in an interview with TechCrunch, the following is how the company actually works. The process begins with the conception of an "impact-focused" idea around which Fast Forward may construct a sustainable business.
The venture studio company makes a grand selection of ideas, giving priority to those it believes have the potential to affect at least 10 million people and bring in at least $10 million in annual recurring revenue within three to five years.
After the foundation of the idea has been laid, the venture studio will search for a seasoned operator who they believe is capable of achieving product-market fit, scaling the product, and leading the firm. Once all parties are on the same page, Fast Forward will offer the operator or founder $100,000 in exchange for up to 20% of the company.
In addition, Fast Forward will provide value-adds such as co-founder recruitment, engineering support, initial product strategy, execution on the growth side, and administrative operations such as accounting and legal. The co-founder of the company, Fast Forward also serves in this capacity.
"Because we back entrepreneurs from the very beginning, our money is almost always the first to be invested in the company. "Because Lara and I are business owners who have grown our companies in Africa, we don't see ourselves solely as investors but also as builders," said the managing partner of the company, Awoyemi.
"We understand the market, and we feel that the best approach to unlock some of these opportunities, even though the vast majority of people are not thinking about them, is to place entrepreneurs in the center of the action. Ideas can originate from us, but there is no shortage of them; the true job is in putting those ideas into action.
The following industries pique Fast Forward's interest: B2B and B2B2C services; infrastructural fintech; e-commerce; the future of work; edtech; healthcare; logistics; deep tech; blockchain; and globally scalable SaaS out of Africa.
FastForward intends to engage with ten different ideas within these industries on an annual basis, with the goal of spinning off between three and five startups that will go on to secure follow-up funding from other investors and be accepted into accelerators such as Y Combinator and Techstars.