One of the largest manufacturers of golf carts in the United States, Club Car, has recently introduced a sleek new line of high-end electric vehicles that look more like open-air electric cars. In any case, the Club Car Cru prefers not to be referred to as a car.
In fact, by definition, these are not even golf carts. They are a class of vehicles known as "low-speed vehicles" (LSVs).

Battle Approved Motors. Invest Today!!

Get a $250 Amazon Gift Card. Apply Today!
LSVs are their own type of car, even though they look like high-end golf buggies at first glance. Since they may travel up to 40 kilometers per hour (25 miles per hour), they are allowed on public roads but are subject to less stringent regulations.
They still have to have safety equipment like working seatbelts, windshields, backup cameras, and pedestrian alarms, which are required by the DOT.
There is a nascent but expanding market for these compact EVs in the United States, where a number of new LSV manufacturers are offering more affordable options to the more conventional electric car.
Though rarely this attractive. BMW's design studio Designworks envisioned the Club Car Cru as an opportunity to reimagine the open-air, road-legal LSV.
The layout isn't totally airy, at least not by the road. The vehicle's left side is enclosed with glass. For ventilation and ease of access to the curb, the right side and rear have been left open.
The Club Car Cru's maximum speed is electronically capped at 40 kilometers per hour (25 miles per hour), making it a legal LSV on public roads. It may legally travel at speeds of up to 56 kph (about 35 miles per hour).
The same is true of practically every street in the heart of major cities, as well as numerous beach towns, islands, and retirement communities. This won't be able to take the place of a family automobile on highways with speed limits of 50 mph, but it should be just fine for use in urban areas and planned communities.
Club Car Cru Pricing
That's the bet Club Car is placing on the efficiency of the Cru as a replacement for more expensive and bulkier electric vehicles. But with a starting price of $27,000, it is not much cheaper than the cheapest electric cars on the market today.
The price is a few thousand dollars more than the GEM LSV, which was also very well-known. It's also around three times as expensive as newcomers like Wink Motors' $10,000 electric LSVs, which have comparable performance but also have a climate-controlled interior like a regular car.
The Club Car Cru, however, has a distinct advantage over its rivals: premium status. The front seats are swivel chairs that can be rotated to face the backseat passengers when the Cru is parked.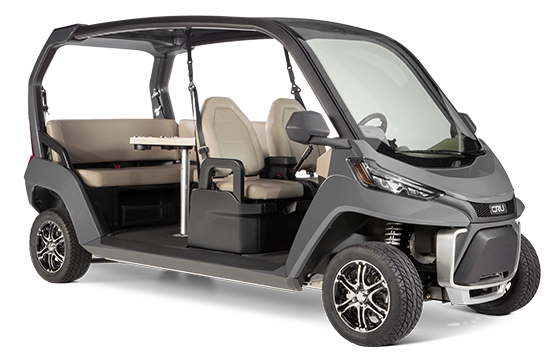 An L-shaped bench and table in the rear provide ample seating for group meals and family get-togethers. Four children can ride unbuckled in the back seat, while three adults can sit there in the parked position (buckled).
The goal was to provide a way for people to take their interior living spaces outside without having to sacrifice comfort. It's a great way for retirees and other residents of gated communities to have spontaneous get-togethers without having to leave their cozy recliners at home.
Because of its open layout, the Club Car Cru is most suitable for the warmer regions of the country, which is precisely where the company is concentrating its initial marketing efforts.
Seeing more and more of these little electric vehicles driving around your area is becoming increasingly likely as the number of LSV possibilities expands.