After overcoming Australia 3-1, England will face Spain in the Women's World Cup final on Sunday, making further history.
Both the rich athletic history between the two countries and who would be regarded as the underdog in the upcoming match were discussed during the pregame stroll.

Battle Approved Motors. Invest Today!!

Get a $250 Amazon Gift Card. Apply Today!
The ensuing exciting semi-final at Stadium Australia was a result of all this. When England's Ella Toone (36) curled in a stunning shot, the Matildas finally conceded a goal at the World Cup for the first time since their second group game against Nigeria, more than five hours earlier.
Sam Kerr, Australia's talismanic captain, returned to the starting lineup in the 63rd minute and immediately made her presence felt by blasting a spectacular strike home from about 25 yards out.
1 – Ella Toone has become the first England player (inclusive of men+women) to score in a quarter-final, semi-final and final of major international tournaments (Euros/World Cup).

QF – vs Spain at Euro 2022
SF – vs Australia at 2023 WWC
Final – vs Germany at Euro 2022

Clutch. pic.twitter.com/CSECOCZdLA

— OptaJoe (@OptaJoe) August 16, 2023
But England's tournament experience started to show as soon as Lauren Hemp (71) put the Lionesses back in front. Alessia Russo (86) then made sure that England would play Spain in the big final on Sunday.
Australia, which co-hosted the event and received a lot of support in Sydney, is no longer eligible to win. However, if they beat Sweden in the play-off on Saturday, they will finish in third place.
After the game, England's boss, Sarina Wiegman, was almost speechless. She told BBC Sport, "We made it to the final!" We didn't win the title, but it feels like we did because we just won this game. It was a tough game, but we found a way to win again in a great stadium and on the road.
"Australia had a great tournament. They got better as the event went on. They had some hiccups and had to win their last game in the group stage, but then things kept getting better and better.
"I just told [assistant manager] Arjan that it's a great honor to be able to coach or play in two games. I never take anything for granted, but it seems like I'm living in a fairy tale or something."
Read More: Tiger Woods Supports Jay Monahan on PGA Tour Board
How England beat Australia to get to the final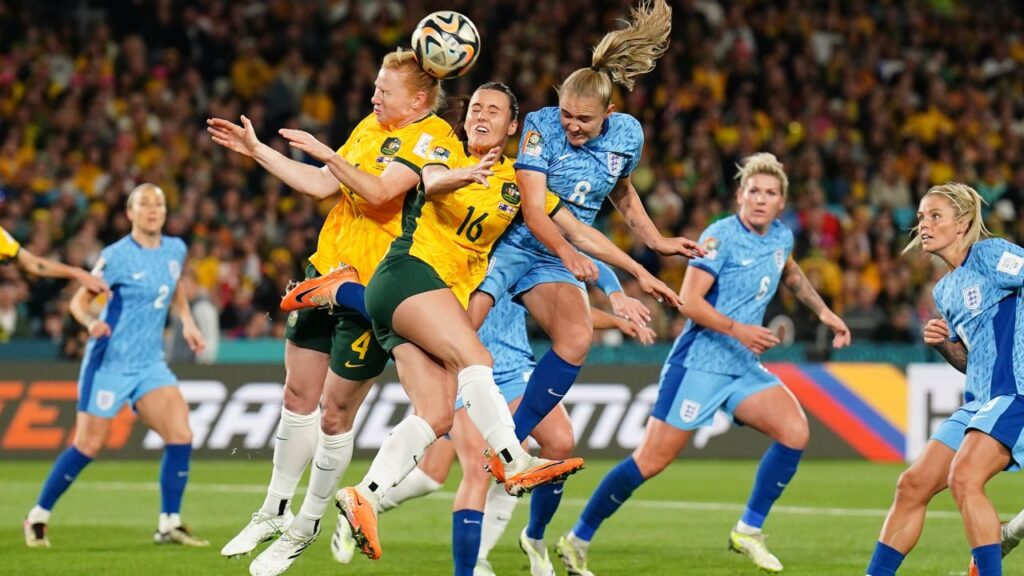 Kerr didn't waste any time showing off her skills. In the seventh minute, she raced through on goal and scored. Mary Earps stopped her final shot well by getting low as the offside flag went up. At the other end, Mackenzie Arnold kept her good tournament going by stopping Georgia Stanway as she tried to score near the goal.
As the half went on, both teams kept getting chances. Toone passed the ball to Russo inside the box, but Russo's shot hit the side of the goal. Then, when Australia took a corner, Haley Raso was alone near the back post, but she also missed the plan with her shot.
In the 36th minute, Toone did something very clever that broke the tie. Hemp passed it back to the midfielder, who then shot it straight into the top corner, giving Arnold no chance to save it.
As you might have guessed, Australia got out of the blocks quickly in the second half. Their best start came when Mary Fowler hit Caitlin Foord on the left, but Earps caught Foord's shot well. England also had chances. Arnold saved a shot from Hemp, and Millie Bright's header from a corner went wide.
But Kerr could match anything Toone could do because she scored a goal that was just as amazing as anything Toone could do. She picked up the ball at the halfway line and then went up against Bright, who plays for Chelsea. Kerr chose to try to score herself, and her incredible curling shot got by Earps.
The Lionesses responded well, with Lucy Bronze and Russo coming close in the eight minutes before Hemp put England back in front. Bright sent a great ball over the top to find the winger, who then went around Ellie Carpenter, who couldn't keep the ball under control, and put it in the goal.
Australia tried to score a goal as time ran out, but Kerr missed two great chances and Earps blocked a cross from Cortnee Vine.
But England kept going even though they were under a lot of pressure. Russo's third goal put England in the final on Sunday. She was in the same spot as when she scored against Colombia. Hemp gave her a beautiful backward pass, and she shot into the far corner.
Bronze: I can't say anything. | Bright: This is nuts!
Bronze, who has played for England for a long time and started in both of their previous back-to-back World Cup semi-final losses, told Sky Sports that she was stunned when the Lionesses finally went one better and made it to Sunday's final.
She said, "There are a lot of feelings right now because the last two semi-finals were so sad. I don't know many people who have had to go through a semi-final like Alex Greenwood and I have. But to finally get past that and be in the final… I don't know what to say.
"The game is going to be fun. In the end, I started jumping, but Sarina told me to stop because we needed to get ready for the next game. We're trying to get prepared for that game, which we know will be hard.
"Spain has done a great job in this event, but they lost, so we're the only team left without a loss. We and Spain will both feel good about the game."
Bright, Bronze's defensive partner and tournament captain, said that England wouldn't celebrate too much because they still had one more game to go. She also praised her club teammate, Kerr, whose stunning equalizer wasn't enough to keep Australia's tournament hopes alive.
"That's crazy," she said. It's something we've wanted for a long time, and now we're in a place where we have a chance to go out and play in that final.
"We're in such a strong frame of mind that it can be hard to see the big picture when it comes to events. It's almost time to rest, heal, repeat, and start over.
"Tonight, we'll have a party with friends and family. You have to enjoy these times because they don't come around very often. But then it's back to work, so put your head down and get to work.
"Tonight, Sam was our target, but she is a good friend of mine. I feel terrible for her, but in the end, my heart is with England. I have a lot of respect for her, and I've always wanted her shirt.
"I'm glad we played against each other. She's hard to keep quiet. You have to keep an eye on her, and if you don't, she'll score. Tonight, she put us to the test. As a country, we treat our enemies with care, but we always get the job done."
Kane: I'm going to watch it!
On Sky Sports News, England's men's team leader, Harry Kane, said:
"Congratulations to the Lionesses on a huge scale. They should have it. We're all rooting for them, and we hope they can win the final.
"We saw what happened when the Lionesses won the Euros and how it brought the country together.
"I'll watch the final from Germany, where I live."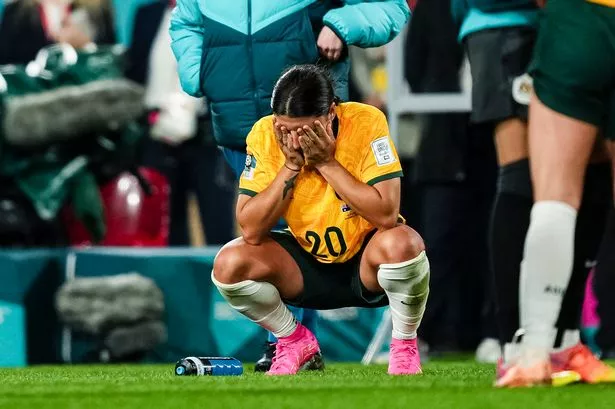 It's hard not to feel bad, says Kerr.
Sam Kerr finally made her mark on this Women's World Cup after five games and 62 minutes, with a fantastic goal in the semi-final.
But superstars are the hardest on themselves, and Kerr had to deal with her sadness right after the match after she missed another chance to tie the score before Russo scored.
"All I can feel right now is sadness," Kerr said.
Gustavsson: We also won something
"I've said before that a game of football in a tournament takes one moment, and tonight England finished much better than we did," said Australia's head coach, Tony Gustavsson.
"What I told the team in the huddle after the game was that we promised to give it our all, and every player did. I think that's why the people thanked them.
"But then I said we don't have time to think about it. We don't have much time left, and if we let this game get us down too much, we won't have a chance in the bronze medal game, so we need to be strong right now.
"We're very sad about losing, but maybe we won something else. In this country, we have won hearts and love for this game, but I agree with the players. This needs to be the beginning of something, not the end of something."
Related Tweets
WORLD CUP FINAL BABBYY, GET IN @Lionesses 🥳🥳🥳

— Beth Mead MBE (@bmeado9) August 16, 2023
An Incredible achievement by the @Lionesses One more to go ❤️⚽️

— Gary Neville (@GNev2) August 16, 2023
Well played @Lionesses. Absolutely superb performance. A World Cup final. A World Cup final at football. It's been a while. What a wonderful achievement. 👏🏻👏🏻👏🏻👏🏻

— Gary Lineker (@GaryLineker) August 16, 2023
THIS. IS. WHAT. IT. MEANS. pic.twitter.com/VnlgICjT7X

— Lionesses (@Lionesses) August 16, 2023
❤️ #Matildas #FIFAWWC #TilitsDone pic.twitter.com/67wGMUtNLj

— CommBank Matildas (@TheMatildas) August 16, 2023
𝒮𝓅𝒶𝒾𝓃 𝓋𝓈 𝐸𝓃𝑔𝓁𝒶𝓃𝒹

𝒲𝑜𝓂𝑒𝓃'𝓈 𝒲𝑜𝓇𝓁𝒹 𝒞𝓊𝓅 𝐹𝒾𝓃𝒶𝓁 📜 pic.twitter.com/LPMCHTEPu0

— Sky Sports Football (@SkyFootball) August 16, 2023