When I got my hands on Fairphone's new over-ear headphones, the Fairbuds XL, one of the first things I did was take them apart. Not because there was anything wrong with them, but because Fairphone makes goods that are not only easy to take apart, but also fun to do so. And I'm glad to say that it's the same here. After removing plastic tabs, levering open metal bolts, and unscrewing some good old Phillips-head screws, I had a pair of over-ear headphones broken down into about a dozen parts.
This modular design isn't just a design trick (though it is impressive), but a way to make sure that if and when parts of the headphones break over time, you can just change the broken module instead of having to pay €249 (£219, about $273) for a new pair. Hardware problems are covered by a two-year warranty, and parts can be bought directly from Fairphone, just like with their cell phones. The headphones will be sold in Europe, but not in the US, just like Fairphone's phones.

Battle Approved Motors. Invest Today!!

Get a $250 Amazon Gift Card. Apply Today!
The Fairbuds XL is smartly made and has a lot of features. They also block out noise and can be used in the rain. But like the rest of Fairphone's goods, these eco-friendly parts seem to have come at a price. It means that based on sound quality alone, the Fairbuds XL doesn't feel like a good deal at their relatively high price.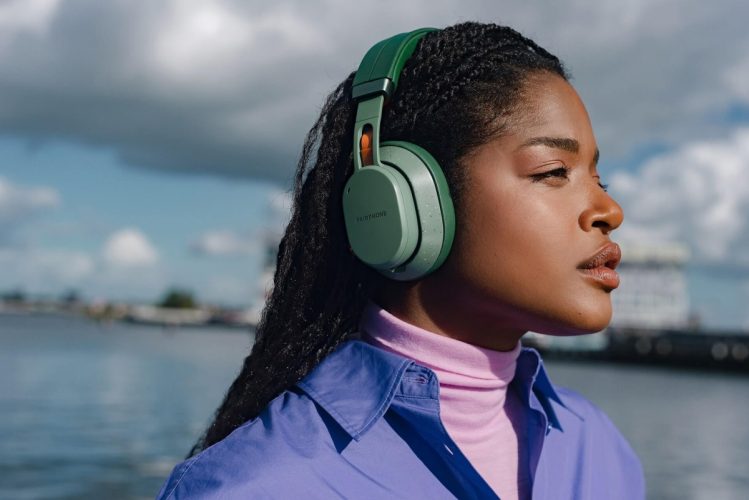 Fairbuds XL are modular
Even though the Fairbuds XL headphones are made of separate parts, they look like a normal pair of wireless over-ear headphones. Even though the cable connecting the two ear cups is obvious to make it easier to detach, Fairphone has made it look more like a design detail than a way to make the headphones harder to fix.
On the right ear cup, there is a joystick control, a noise-canceling button, and a USB-C charging port, but there is no specific 3.5mm headphone jack. The left ear cup has no buttons on the outside, but the battery can be changed by the user. The Fairbuds XL I got to review were green, but they also come in black.
I'll talk about the controls and the fact that the Fairbuds XL doesn't have a normal audio jack in moment. For now, I want to talk about how fun it is to take apart the Fairbuds XL. The plastic clips on the upper ear cap covers can be easily pried off, and the ear cushions can be taken off by turning them anticlockwise. The cable between the speakers can be removed, and each ear cup is held on by two screws. Lastly, the headband can be taken apart by sliding off the cover. Then, small metal levers can be used to separate the base headband parts.
I wouldn't say that taking apart the headphones is easy, and there were a few times when I was afraid I was going to break them before they came apart. But I'd rather have this than a pair of headphones that are so easy to take apart that it feels like they're about to fall apart in your hands. It's also nice that they have an IP54 grade for dust and water resistance.
Light rain or sweat won't hurt them
This means that, despite their modular design, light rain or sweat shouldn't hurt them. That's not bad, given that even high-end headphones don't always have waterproof. (The Sony WH-1000XM5s, Bose QuietComfort 45s, and Apple AirPods Max, for example, don't have an IP grade.)
Since these headphones are easy to take apart and extra parts are easy to find, it should (in theory) be possible to keep them working well for years to come. The exact length of time will rely on how long Fairphone has parts available, and the company isn't sure how long that will be beyond the two-year warranty that comes with the headphones. It hopes to have spare parts for its headphones available for about as long as it does for its smartphones. For example, it offered six years of spare parts for the Fairphone 4, but it's too bad it can't make a stronger promise.
The Fairbuds XL is easy to control with the button on the right ear cup. Inspired by a similar button on Marshall headphones, the joystick can be held down to turn the headphones on or off, pushed up and down to control the volume, and pushed left and right to skip songs. It's simple, easy to find with your thumb while wearing headphones, and much more reliable than swipe-based controls or buttons that have to be pressed up to three times to skip songs. The separate ANC button turns on noise cancellation and transparency mode and also puts the headphones into pairing mode.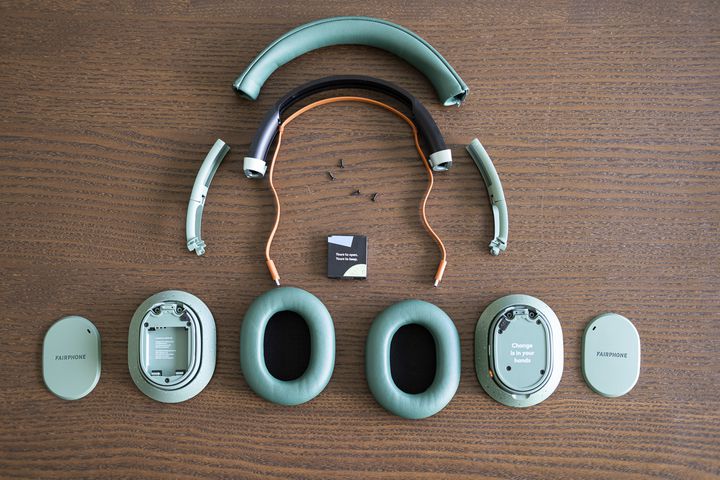 Avoid the hassle with Fairphone's €12.95 (£11.95) 3.5mm-to-USB-C cable
I don't like that there isn't a separate 3.5mm port. Fairphone doesn't let you use the Fairbuds XL as wired headphones with a standard 3.5mm cord. Instead, you can connect them through the USB-C port, which is similar to what Apple did with the Lightning port on the AirPods Max. In theory, you should be able to connect the headphones to your source device using any number of aftermarket dongles and USB cords.
But in real life, I had a hit-or-miss experience with the cables and dongles I had on hand because the specs of these aftermarket accessories were so different and the makers didn't always label them the same way. Plan on getting the €12.95 (£11.95) 3.5mm-to-USB-C cable from Fairphone to escape the trouble.
Multipoint connectivity lets the Fairbuds XL connect to two devices, like a laptop and a phone, and switch between them. After setup, it works well, and switching devices is quick. However, connecting two devices is tricky, and I felt like I was experimenting. I believe you must put the headphones back into pairing mode and ignore the "disconnected" notification after connecting them to your first source device. They connected to both devices after rebooting.
Fairphone says that the Fairbuds XL can play music for 26 hours with noise cancellation on and 30 hours without it. That's a little less than Sony's XM5s (30 hours with ANC on, 40 hours without it), but a little more than Bose's QC45s (24 hours with ANC on). In practice, I was able to use the headphones for about two weeks before I had to charge them. I wore them on public transportation and around the house, but not for long periods while sitting at my desk.
Read More: Brex, a Fintech Business Grew 200% Last Year
Fairbuds XL handles most secondary headphones and functions well
I'd still wear them at work. I can wear Fairbuds XL headphones with glasses. They don't squeeze my skull or press my ears down. even comfy enough to wear on public transit without music, and even blocked out the London Underground's shrieking. In my flat, the loud clanking of cutlery confused the ANC and made the headphones explode. Fairphone spokeswoman Anna Jopp said the business is aware of the issue and working on a software upgrade.
All of this means that the Fairbuds XL does a good job with most of the secondary features of headphones, like noise cancellation, battery life, and controls, while also giving Fairphone's signature modularity, repairability, and sustainable manufacturing. But I would be lying if I said they sounded like €249 headphones.
That's not because the codecs don't work. The Fairbuds XL doesn't work with LDAC or aptX Lossless, but they do work with aptX HD, AAC, and SBC. You can also choose from four equalizers presets in the Fairphone app (see "Agree to continue" part below) if you want to try to change the sound, but you can't make them more precise.
But whether I used the moderate "Copenhagen" setting or the bassier "Tokyo" setting, I couldn't get away from the fact that the Fairbuds XL doesn't have a very detailed sound. So, I mostly used the basic "Amsterdam" EQ preset, which Fairphone says has an "all-around strong sound with real presence." When you listen to a song with many layers, like "Null" by Paranoid Void, the Fairbuds XL makes it harder to tell the difference between the guitar and the bass. The same thing happens in Max Richter's "On the Nature of Daylight," where all the string instruments sound less different from each other.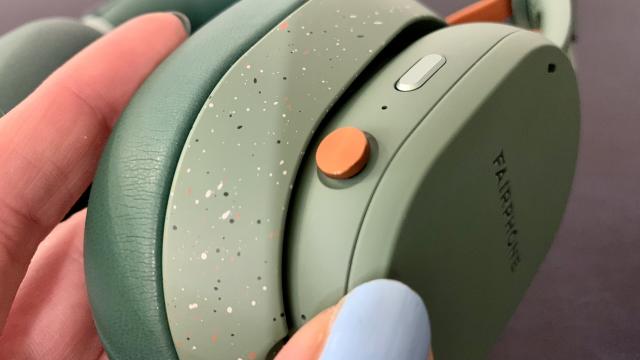 These headphones aren't for critical calls?
But that doesn't mean that the Fairbuds XL isn't good. Their bass never goes too low or too high, and it never sounds flat and empty. "Brianstorm" by the Arctic Monkeys sounds just as pounding and energetic as it should, and the Fairbuds XL passed the "does the ending of Royal Blood's "Out of the Black" make the hairs on the back of my neck stand up" test with flying colors.
I never wished I had a different pair of headphones when I was listening to music. But their sound doesn't have the fullness I'd expect at this price point.
Also in the "not a deal-breaker but annoying" area is the microphone performance of the Fairbuds XL, which made my voice sound muffled and hard to hear when there was a lot of background noise. I wouldn't use these headphones to make important calls without using my hands.
Is €249 a good price for the Fairbuds XL? I kept coming back to this question as I tried to write this ending. When it comes to the value of what you get in the box on the day it comes out, the answer is a clear "not quite." Their style, controls, and ability to block out noise are all good, but their sound quality is more like what I'd expect from a pair of headphones that cost €150.
Fairphone products have more to them. Fairphone products aren't just for the box. It also covers Fairphone's efforts to use fair trade gold and the living wage bonus for plant workers who assemble the headphones.
Read More: AI is Used in the Battery Design Process at This Startup
Concluding
With that money, the design is also made to be easy to fix and keep up over time. I especially love how easy it is to change the battery in the headphones. All you have to do is unclip a plastic cover and put it in a battery that costs €19.95 (£17.95). This trait alone could make a pair of Fairbuds XL last years longer than other headphones on the market. But if you don't know for sure how long backup parts will be available, it's hard to estimate how long they might last and, therefore, how much the extra cost is worth.
Considering how long Fairphone has been supporting its smartphones, I would be very surprised if there weren't still extra parts available in five years. But as of right now, it's not a sure thing.
As with any first-generation device that uses "longevity" as a selling point, buying the Fairbuds XL is a vote of confidence that Fairphone will continue to support it. Even if the design is easy to fix, it won't matter if parts aren't easy to get in the future. This ongoing help is a big part of what you're getting for your €249 purchase. I think Fairphone deserves the benefit of the doubt because of what it has done in the past. But I wouldn't blame anyone who thinks the value here is less clear.