In different ways, the Inflation Reduction Act passed by the Biden government can already be seen in the EV market. Recent data shows that one of them is a sudden rise this year in the number of EVs that were rented instead of bought.
The IRA reinstated the $7,500 federal EV tax credit for qualified autos. However, new rules reduced its flexibility. Trucks, SUVs, and vans cost $80,000, and new automobiles $55,000. The electric SUV list requires clarification. New income standards exist. The credit is only accessible to households with an adjusted gross income of $300,000 or less for married couples filing jointly, $225,000 for heads of household, or $150,000 for others.

Battle Approved Motors. Invest Today!!

Get a $250 Amazon Gift Card. Apply Today!
It also had standards for EV batteries and where to get them. It was hard to follow the rules, so the U.S. Treasury Department put off putting those credit requirements into effect until April 18, which was a long time after the start of the 2023 tax year.
After becoming legislation, the types that could offer the most credit shrank. It reduced the credit for those EVs with foreign batteries but US assembly. Ford Mustang Mach-E cells are produced in Poland and assembled in Mexico.
Read More: Battle Approved Motors — a New Hidden Gem on WeFunder, Opens Funding Round to Existing Investors
The Loophole in EV leasing
The IRA already has the "EV tax credit loophole" for leasing. Commercial Clean Vehicle Credit, or IRS 45W, was created to subsidize fleet owners.
The way it was written, on the other hand, was not at all by accident. Now, an automaker's captive finance partner can claim the same incentive for private people leasing a vehicle: up to $7,500 for EVs with a gross weight rating of less than 14,000 pounds (or more for heavier vehicles). They can either put some or all of it towards the lease or keep the money. It also doesn't have any of the restrictions that the purchase tax credit does, like where it has to be put together, essential minerals, family income, or sticker price.
In the first few months of 2023, most automakers quickly lowered lease prices, which meant that the federal government was essentially paying for them. Many of these cuts were for foreign electric vehicles and high-end models. Some companies, like the U.S. EV maker Lucid, went ahead and lowered their lease costs right away (in January 2023)—which meant that their monthly lease rates went down. Others at first chose to get the credit but did not use it to lower their loan prices.
At the same time, loan rates have gone up sharply, making it much more expensive to finance the purchase of a car. Experian says that the average loan rate for Q2 2023 is 6.63%. This is a huge increase from the same time in 2022 and 2021, when it was 4.60% and 4.17%, respectively.
So, around April, some things changed in the EV market. It might not have been as appealing to buy an EV, but leasing them became a little more appealing.
Read More: Possible Earth SUV Inspired by Toyota's Lunar Cruiser EV Concept
Letting people rent EVs
Based on data from Experian, the EV market may be moving towards rental because of this.

In January and February 2023, around 5% fewer new EVs were rented than bought. But by April, the trend had changed, and rental rates were about 5% higher than they were the year before.
The most recent month for which Experian has data is June. More than 22% of the market was made up of EV rental. In its current State of the Automotive Finance Market report, the company said earlier this month that leases of the Tesla Model 3 have gone up a lot, making it one of the most leased cars in the U.S. market.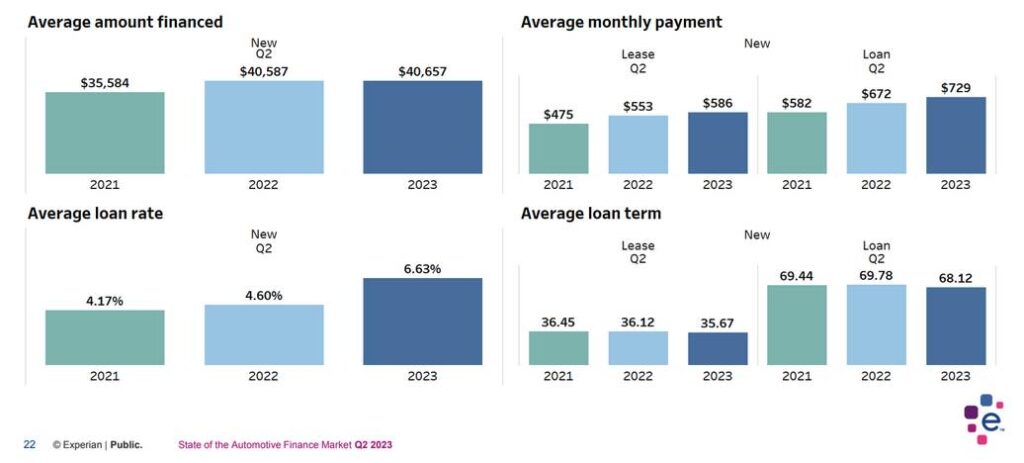 The effect could also be seen in the average monthly lease payments across the whole business. They are $586 for the second quarter of this year, up from $553 for the same time last year. But the average loan for Q2 of this year is $729 a month, up from $672 a month in Q2 of last year. Loans have gone up 8.8% year over year, but rents have only gone up less than 6%.
Green Car Reports has queried the IRS and manufacturer finance providers about 45W EV leasing funding claims. So far, the companies that have answered have said that this kind of information is private. This means that we might have to wait until next year when the IRS might give it to us backward.
The move towards leasing EVs isn't just because of the leasing loophole. However, this is one way that the IRA seems to have sped up the growth of the EV market.