Kia made the decision to modernize the company and its products last year. And it did so by switching to a new, more contemporary logo, ditching the previous circular design. The issue, however, is that few people can read it while driving.
You might think that one post on Reddit doesn't show that a lot of people are confused. However, this is not just one Reddit thread, dear reader (there are a few, actually). Approximately 30,000 people in the United States conduct searches each month to learn more about the "KN car," as shown by an analysis of search engine trends.

Battle Approved Motors. Invest Today!!

Get a $250 Amazon Gift Card. Apply Today!
The Twitter user Ashwinn Krishnaswamy was the first to draw attention to this fascinating fact. Search data from ahrefs showed that the number of people looking for "KN car" skyrocketed in March 2021, just a few months after the new logo was announced.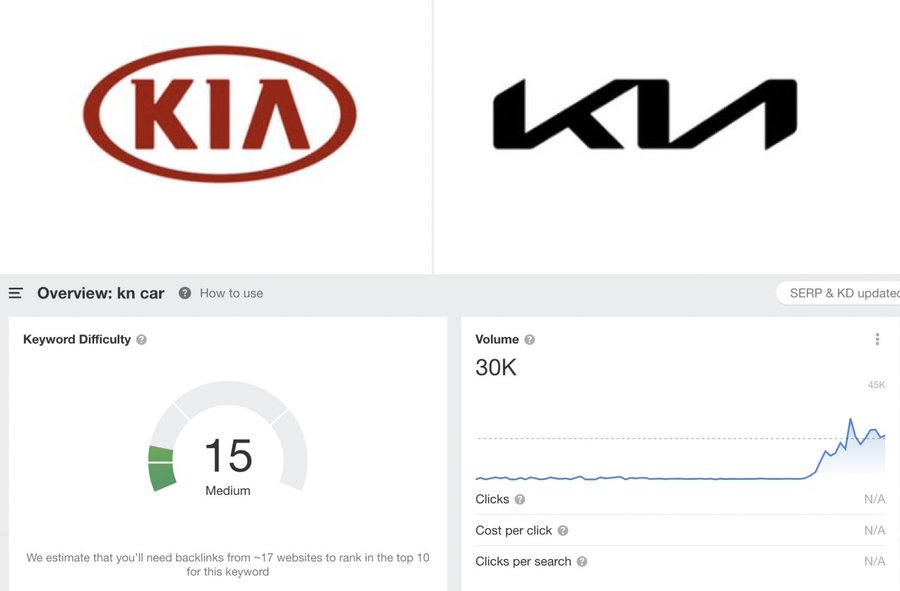 This was very interesting to Ashwinn. Around the same time, the rebadged Kia Stinger went on sale, and drivers started seeing vehicles with the new logo without realizing they were actually Kias.
Ahrefs is an all-inclusive set of SEO tools designed to increase search traffic and optimize websites.
Not only the Stinger, either. The above-mentioned related searches reveal that people are correctly identifying the model of the vehicle (such as the amazing Kia Carnival minivan), but they are having trouble deducing the name of the automaker from the logo.
Just in case you still needed more evidence, a spike in searches for the same term can also be seen on Google Trends around the same time.
30,000 is a lot of people, and I think that needs to be emphasized. There are 360,000 people per year who are curious about KN-branded automobiles; that breaks down to 986 people per day, 41 per hour, or one person every other minute.
Now, I'm no graphic designer (believe me, I know), but I'd like to think that if Kia really wanted to fix its logo recognition problem, it could make a few concessions to the design to help sort out the confusion. Here is my revised logo for the "KN car," which I hope will help to clarify the situation.
There is, however, a bright side. Apparently, the search engine gods approve of the misspelling, as Kia comes up first when you search for "KN Car" on Google, Bing, and DuckDuckGo, all of which rank Kia somewhat lower but still on the front page. One could say that Kia chose the logo design on purpose to take advantage of misspelled keyword marketing.
Kia went from being known as a cheap car company to a respected member of the middle class by changing the look of its cars to the point where people couldn't tell a real Kia from a fake one. It also entered the market for luxury cars and did well there as well.
More and more, I'm convinced that this is a brilliant marketing strategy all around, and I wouldn't be surprised if the 2021 Kia logo revision was used as an example in a textbook someday.