Livtab CyberOne, an all-in-one, smart sit-to-stand desk, delivers a comfortable and performance-driven gaming environment with a mecha-style stylish gaming setup. LivTab has Gundam table legs, mecha-like suspension attachments, twin automatic lift Bluetooth speakers, music sync RGB LED illumination, and strong momentum when raised.
Work and Play Better
CyberOne also boasts a twin motor system and several memory settings for rapid adjustment and up to 350lbs of payload for a smoother, more stable ride. Livtab is a gaming desk and workstation.

Battle Approved Motors. Invest Today!!

Get a $250 Amazon Gift Card. Apply Today!
Level up anytime.
Livtab's automatic height adjustment lets you go from sitting to standing with a button or the smart app after neck and back strain.
Anti-Collision Height Adjustments
Livtab lets you simply return to a comfortable height by memorising up to 10 height presets. Its upgraded anti-collision technology and kid lock system detect impediments and stop automatically.
Dual-Motor Guarantees Strength
Livtab CyberOne's strong dual-drive motor makes the transition from sitting to standing easy and quiet at 45db.
Excellent Storage
Livtab CyberOne has Super Storage. Its 31.5″ x 63″ desktop accommodates multiple monitor and laptop setups and all your workstation needs.
It also has eco-friendly pull-out drawers, a back perforated board with multiple hooks, a slide rail for your monitor arm support, and a thoughtfully designed left-hanging storage cabinet to hold and protect small objects, providing seamlessly integrated storage space for all your home office supplies.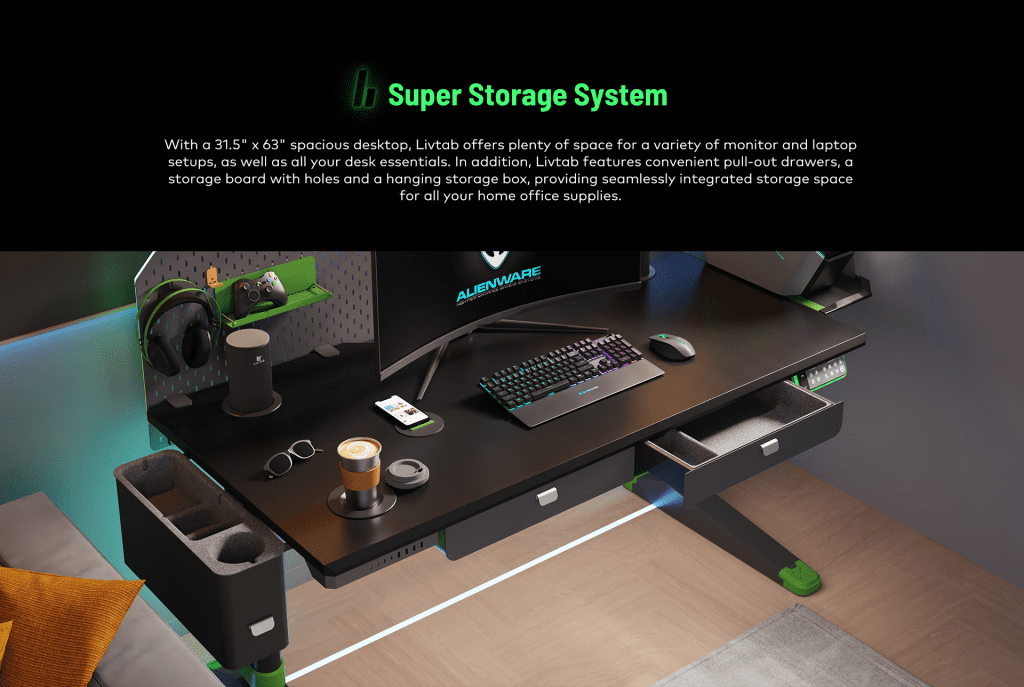 New gameplay features
CyberOne's smart integrated coaster lets you chill or warm drinks through App or control panel.
Dual Automatic Lift Bluetooth Speaker
Smart built-in rising speakers free up room for your music system. The twin speakers' 30w*2 output power produces crisp sound and ambient lighting to immerse you in the game. Our smartphone app lets you reduce them when not needed for a clean desktop.
Music-Sync RGB LED Lighting
Your space becomes a gaming battleground with RGB LED lighting that matches the music. Our app lets you alter lighting settings for a unique experience. Watch your desk come alive.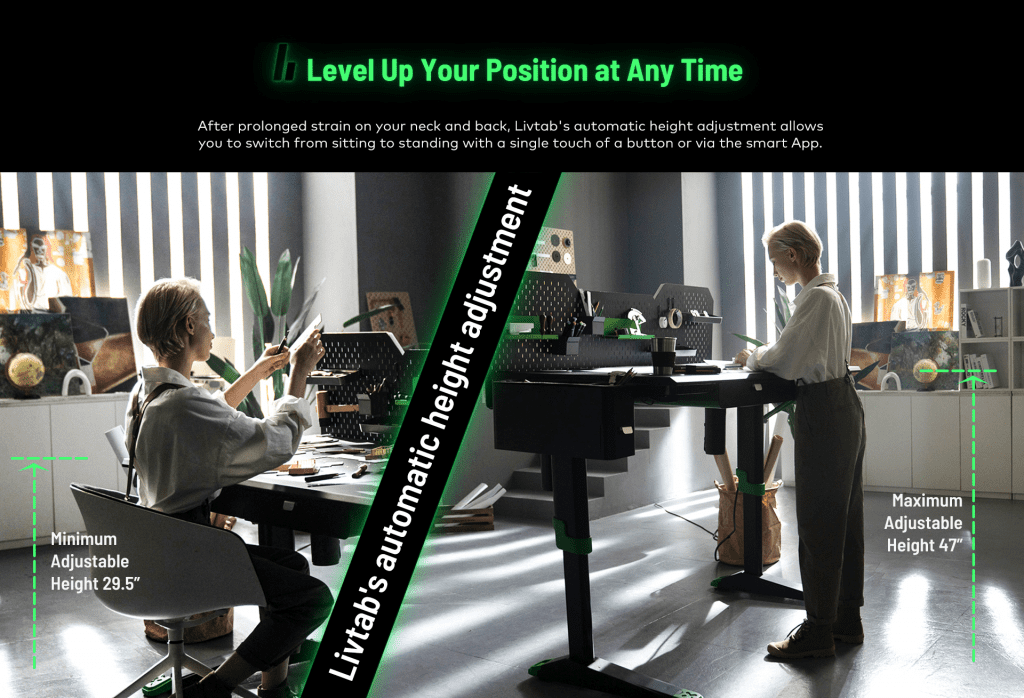 Multi-Use Wireless Charging Zone
Have you tried installing wireless charging? Cable-free smart technology. Livtab CyberOne's built-in charging zone lets you quickly charge your phone, and its innovative design lets you use it as a phone stand and alter its position.
App Control
Livtab CyberOne, one of the few classic standing workstations with an app, lets you use all its capabilities on your smartphone. You may remember your chosen height, activate twin speakers, alter RGB lighting mode, and chill or warm your beverage as needed. Livtab CyberOne is the first Google Assistance and Alexa-compatible sit-stand gaming desk. Our app community lets you talk to other gamers about desktop setups.
Multi-Power Charger
Enjoy a cable-free desktop. Livtab CyberOne has an inbuilt Multi-power charging station. It charges devices, computers, and accessories with 8 ports (4 USB A, 4 USB C, and 2 outlets).
Smart Wiring
CyberOne's clever cable management solution with an integrated mounting tray keeps your desk orderly without turmoil.
Shipment
No crowdfunding waiting for the Livtab CyberOne. They strive to deliver value, quality, and service to our backers.