It's possible that the days of the fluorescent-lit, car-filled dealership are numbered. To modernize the auto industry, upstart electric vehicle manufacturer Rivian is opening a chain of retail outlets across the United States.
These "Spaces," as the automaker calls them, focus less on the vehicle itself and more on the adventurous way of life that the company hopes will be associated with its electric vehicles. The Meatpacking District in New York City is the launch pad for more locations throughout the city, as well as in California and Texas.

Battle Approved Motors. Invest Today!!

Get a $250 Amazon Gift Card. Apply Today!
There will be one or two cars on show, a lounge with vintage furniture, a space for community gatherings, and a parts and materials display for the company's two models, the R1T and R1S. They won't witness a sea of flashy cars and suits vying for their business.
Denise Cherry, senior director of facilities design and retail development at Rivian, explains that the company aimed to build environments in which locals "felt they could be a part of them," encouraging them to engage with the company's cars and one another.
Other EV manufacturers have considered redesigning dealerships. Major cities worldwide have Tesla "dealerships" that utilize retail and shopping center space. Lucid Motors' showrooms resemble modernist living rooms. Rivian made this retail investment to enhance its contacts with potential customers after being removed from the Nasdaq-100 list of major nonfinancial businesses just months after recalling virtually all of its automobiles.
Read More: Analysts Value Tesla Supercharger Network $100B
Rivian's Strategy to Alleviate EV Concerns
Rivian's plan addresses potential electric vehicle buyers' concerns. The Spaces will explain how EVs vary from combustion engines, from charging to range. "We've deliberately set up trip planning as a central moment in all of these spaces," Cherry says. "We can help you plan your trip to the Catskills or whatever it might be, and demystify that barrier to entry for EVs," and "highlight what makes our vehicle so special."
Rivian's experience-based showrooms demonstrate this. In Laguna Beach, California, a theatre foyer has been repurposed. Rivian converted a former fuel station in Groveland, California, near Yosemite National Park into a store, charging stations, and a playground. Austin's Rivian Space will be a 10,000-square-foot indoor/outdoor space with rooftop views of the central business district and access to the city's bike trails.
Rivian is indeed trying to drum up business in these areas, but it's not their primary focus. According to Cherry, the Spaces are multi-purpose and not only for shoving car specifications down people's throats; they may be used for a gardening event one day and a party for owners the next.
The company's first storefront, which opened in 2021 in Venice, California, is a model for this real estate and design strategy; it is a casual shop with a lush garden that happens to feature a Rivian. "We wanted it to be an incredibly inviting space, that you could bring your kids and you wouldn't have to hold them by the wrist, that felt like you could bring your friends and have a conversation," says Cherry.
They also discovered that many of the space's guests were tourists dropping by to meet a Rivian before boarding a flight out of Los Angeles International Airport.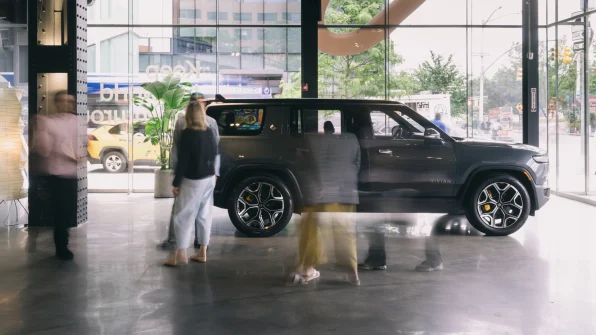 Read More: China's EV Sector Boosted BYD's Profit by 400% Last Year
Rivian's New Retail Spaces Put the Product Front and Center
Cherry: "That was a big factor in our decision to locate in the Meatpacking District or under the High Line, where not only our New York customers but also our international customers are." To put it another way: "Because we do know people are incredibly hungry to see and touch the product."
In addition to the Austin and Yosemite locations, the company plans to open roughly ten more locations in the coming year, including a former theatre in Laguna Beach and a petrol station. According to Cherry, this is just the beginning of a broader reevaluation of the purpose of such venues, which have hitherto been almost entirely oriented toward converting visitors into consumers.
The company hopes that "other [carmakers] start to think about this," with the result being "the industry starts to focus on who each of these different brands is, what they represent, and how they can use space to highlight that," she says. "It's a shame that this opportunity has gone unrealized for so long; more of that, across the industry, would be fantastic."
FAQs
What are Rivian's Lifestyle Spaces?
Rivian's Lifestyle Spaces are a new type of retail location for the company. They are designed to be more than just dealerships, but rather places where people can learn about Rivian's vehicles and the EV lifestyle. The Spaces feature interactive displays, educational materials, and even a place to test drive Rivian vehicles.
Do Rivian Lifestyle Spaces sell cars?
es, Rivian Lifestyle Spaces do sell cars. However, the company is careful to not call them dealerships. Instead, they refer to them as "retail experiences." This is because Rivian wants to create a more personalized and informative shopping experience for customers.